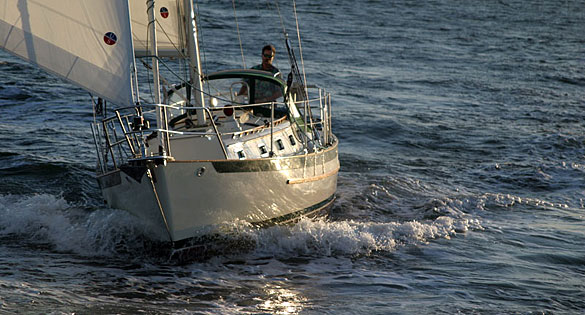 I am working in Corporate America at a top rated financial institution, making a good living by most standards, and I can afford more than I need (occasionally). I'm incredibly thankful for the provisions and blessings God has bestowed on my family and I. I like my job well enough, I like the town where we live, and I am generally content. I have a wife and two beautiful daughters who I love and who love me in return. And all the while I know, deep down, there is much more to life. As a Christian, I have a hard time believing it is God's intention that a man or woman spend 30-40% of their life away from those they love only to one day "retire"after becoming too feeble to live it.
Now I know this may sound like optimistic non-sense, but I think most of us go through life in a bit of daze. We live life aimlessly pouring all our God given talents and energy into things that ultimately have little or no eternal value. I realize we can technically serve God in nearly any capacity and we are called to live for Him daily no matter where we are, but I can't help but think the devil is lurking somewhere in that cop-out. I never read in any of Jesus teachings that we were to sell our lives out and give our best years serving mostly ourselves. Sure we can be a financial blessing to others but again, in doing so are you serving God or money? To come down from my soap box for a moment, the truth is the world can never be perfectly right for any of us in it's current state because the world is fallen. So while we can live the abundant life in Christ, a perfect life is not found in a particular geography or occupation. It cannot be bought or sold. It doesn't matter if you're on land or at sea. The perfect life is found only once we as Christians are at home in heaven. As Jesus said, "In this world you will have trouble. But take heart! I have overcome the world." I do think, however, that we can be wasteful with the time God has given us as we pursue the normal life and be bad stewards of our God given talents.
So I want to do something different. I want to be with my family. I want to know them and teach them. One day, my hope is to be able to go cruising and I'm actually in the process of launching a business that I'm optimistic will one day, in the not so distant future, make that dream a reality.
The response many have to the idea of live-aboard cruising is, "that is crazy talk, man...you want to go live on a boat??" This is mostly because they cannot fathom a life other than the one they live and are pursuing. So how about that life: you wake up, go to work, come home, eat dinner, veg out, go to work again - five or six days a week. Saturday you wake up with the kids and run errands or do something fun in the afternoon. Go to church on Sunday, eat lunch, have a lazy afternoon and then it starts over on Monday. The weekend comes and goes in a flash. Wife stays home, teaches, cleans, and does a thousand things but never gets caught up. You manage to pay your bills. Going fishing, seeing a movie, Chucky Cheeze, dinner out - these are highlights. You pay someone for alone time with your spouse on special occasions. You go on family vacations a few times a year to break up the routine/ monotony. You try to share Christ with others but you're so busy it's often tough to find the time or focus for intentional ministry. The kids go to school, practice for whatever, and to a friend's house. You have a mortgage, two cars, a few pets, and you manage to have a little fun spending time together when you can. You have two-four laptops, WiFi, TV, and a smart phone. Ironically, all of it makes us a little dumber. This goes on for about 30-40 years. Still think that life is so great?
Call me crazy all you want. I think there are other ways to live this life and make better use of the time God has given us. That's just my opinion - not saying it's for you. Now I admit that live aboard sailing sounds a little far fetched and possibly extreme if you didn't know much about it. I mean, don't you have to be some whacked out hippie lunatic to go live on a sailboat? No. Don't you have to basically "check-out" from life or become a ocean-bound hermit. No. Modern sailing means GPS, WiFi, AC, and other conveniences. Isn't it incredibly dangerous? No. You're statistically more likely to get hurt driving down the street. Can you actually live comfortably on a boat? Yes. But isn't it cramped? More than a 3000sqft house but then again the back yard is HUGE. What about money? Yes - you'll be needing some of that. It's kind of like if you had to pay for a house, cars, credit card, etc., etc, etc.
There are a thousand reasons I think it would be an unregrettable decision. You see contrary to just going with the flow and living an ordinary life, I'm ok with living life in a more modest home (yes that home, for a time, can be a boat) and to see the great big world that God has created with my family (once the girls are older, of course). I want my wife and I to have the freedom to go anywhere we want while we are young enough to enjoy it. We can meet new people all the time, share the love of Jesus regularly, and make unforgettable memories all while being together. I want to free myself from this 24/7 world of digital communication and the monotony and futility of a life lived serving the status quo that makes me feel like a robotic sheep. There is more to life than that. I used to say "I don't live to work, I work to live" but the math just doesn't add up. That's a pipe dream and something we say to fool ourselves.
After researching a lot of boats, and there are some good ones out there, I think my ideal live aboard cruiser would be the
Pacific Seacraft 31
(see pictures above). The Island Packet 31 would also be nice. This boat would be adequate for Amber and I and we could have friends aboard if we wanted. The PS-31 is one of the best built, most sea worthy sailing vessels out there. Responsive steering, shoal draft of 4ft, lots of ballast, lots of beam and interior accommodation, and beautiful. The girls could even come along during the summers but we'd need a bigger boat if we tried to have the whole family living aboard. No, the plan is to do this once they are in college or soon after. We can acquire the boat earlier and cruise in the summers. We'd do mostly coastal cruising around the US and the Bahamas but perhaps one day a passage to Europe or the Philippines. Who knows. Anyhow, nothing wrong with having a dream, right? Afterward I think I'll buy a small farm and settle in close to the coast somewhere in North GA.